Reuben Stuffed Pretzel with Beer Cheese Dip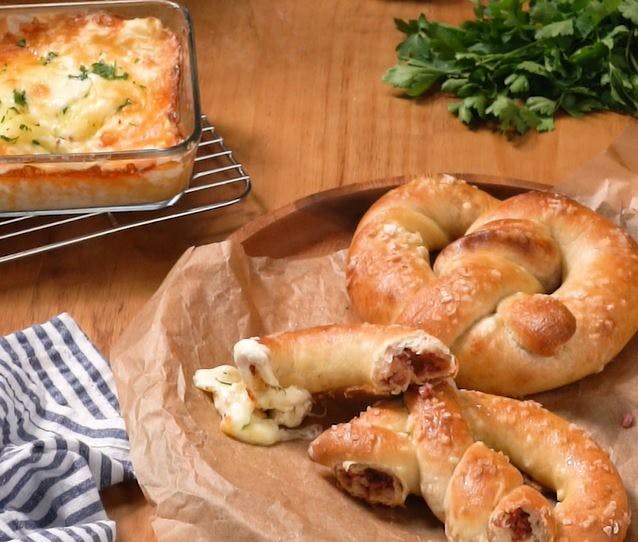 Pub-Style Stuffed Pretzels and Melty Beer Cheese Dip pack a mean Reuben Flavor!
Prep Time: 20 min | Cook Time: 25 min | Serves: 4
Ingredients
1 tbsp olive oil
1 cup of minced corned beef
½ cup – ¾ cup of sauerkraut
½ cup shredded Swiss
thousand island dressing
12 oz refrigerated pizza dough
4 tsp baking soda
1 egg whisked in a small bowl (optional splash of beer)
1 cup of water
flaky sea salt
Directions
Preheat oven to 425°F and prep a sheet with oiled parchment paper.
In a small saucepan, bring 1 cup water to a boil.
In a small bowl, combine the boiling water with baking soda and stir until dissolved.
In a medium bowl, mix corned beef, swiss, and sauerkraut, with Thousand Island dressing.
Cut the pizza dough into two equally-sized balls. Stretch out each of the balls of dough in a dowl approximately 2 ½ ft long. Roll out lightly until 3" wide, press with finger to flatten and spread corned beef in a thin line along the edge of dough closest to you. Roll up dough away from yourself, then shape into a pretzel. Baste with hot water mixture and then brush with egg wash. Sprinkle with flaky sea salt. Arrange on pretzels with parchment and bake for 10 minutes or until firm and golden.
Bake for 12-15 minutes or until browned.
Serve with beer cheese dip (optional recipe on following page)
To Make the Beer Cheese Dip
Ingredients
4 oz cream cheese, softened
¾ cup grated white cheddar
¾ cup grated mozzarella
¼ cup swiss
¼ cup beer
1 tsp garlic powder
A few dashes hot sauce
1 tbsp chopped parsley (optional)
Directions
Preheat oven to 350°F.
In a medium bowl, stir cream cheese until smooth. Add the grated cheddar cheese, ½ cup of the grated mozzarella and grated swiss, stir to combine.
Add the garlic powder, beer and hot sauce, stir until completely mixed.
Pour into a baking dish and sprinkle the remaining ¼ cup of mozzarella on top.
Bake for about 15 minutes or until melted and the top is golden.
Garnish with chopped parsley if desired and serve.